Sanford Alderfer Real Estate Moves Into Third Generation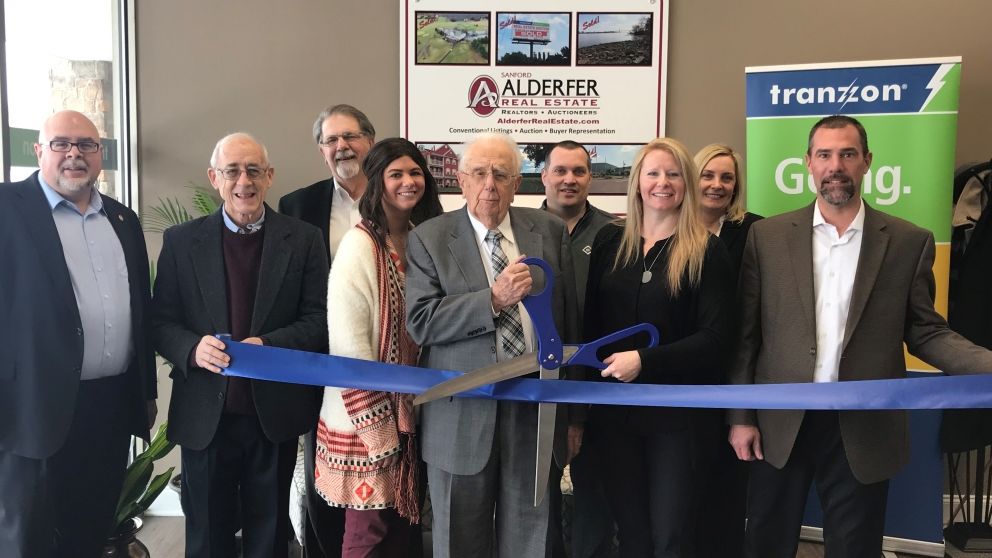 UPPER SALFORD — It has been six decades since Sanford Alderfer did his first real estate sale in 1959. "In 1960," he said, "I conducted 28 auctions and sold 28 pieces of real estate." That doesn't mean all the real estate was sold at auction, though, he said. Some were, while others were private sales between buyers and sellers.
"Real estate is a very special transition," said Sandy Alderfer, Sanford's son and president of Sanford Alderfer Real Estate. "Real estate is the biggest transaction that most people deal with."
Along with helping people buy or sell real estate, the business includes things such as land planning and appraisals, he said.
"We just offer a complete solution for real estate," he said.
After having mostly been involved on the selling end in the past, the business is now also representing buyers, Sandy Alderfer said.
Daughter Michelle Hunsberger, part of the third generation of the family involved in the business, particularly likes doing that, he said.
"She really loves being a buyer's agent. I love being a seller's agent," he said. "We do a lot of business where we represent buyer and seller."
The other third-generation members of the business are daughter Saralyn Alderfer-Nyce and Lon Clemmer, the grandson of one of Sandy Alderfer's uncles, Sandy said.
"Dad always said he was more excited about tomorrow than today, and I understand that now working with the third generation," he said.
A ribbon-cutting at the Shelly Square Shopping Center location the business moved into about a year ago was held Feb. 20 by the Indian Valley Chamber of Commerce.
"We enjoy being back in Harleysville where it all started on Main Street," Alderfer-Nyce said.
The business started on Main Street in Harleysville, Sandy Alderfer said, then later returned there when its office was in the Salford Square Shopping Center before moving to its current location at Main Street (Sumneytown Pike) and Shelly Road.
A lot of what the company did in the past was auctioning off the property and contents after the property owner's death, he said.
"Our work was somebody died and we hauled everything out in the backyard and we stood under the tree and we had an auction, and at 12 o'clock, we sold the house, then we went back and sold the riding mower and everything else," Sandy Alderfer said. "That was our model for years. Still the model in rural Pennsylvania."
On-site auctions are still held in the local area, too, if there's enough parking and the municipality allows it, he said.
Along with on-site auctions, the company, which is affiliated with the nationwide Tranzon network, now offers other types of auctions, including online, combined online and live, sealed bids and ballroom auctions in which multiple properties can be sold at one live auction, company information says.
These days, about half of the Sanford Alderfer Real Estate sales are through auctions and half through conventional real estate sales, Clemmer said.
At 95, Sanford Alderfer, a Peter Becker Community resident, said he still enjoys traveling, hunting, bowling and golf.
His first employee was his brother, Harold, who recently passed away, Sanford Alderfer said.
"My whole life was trust," he said. "In those first years, all my contracts were a handshake."
"We want to continue the legacy of this man," Clemmer said, "and his motto of people serving people."
The code of ethics for the business for years has been the golden rule, Sandy Alderfer said, "and that's just do what's right and treat people the way you want to be treated."
Article By Bob Keeler bkeeler@21st-centurymedia.com @bybobkeeler on Twitter
---